In Part 1 of this field review, I came to the conclusion that the XR100 is capable of making exhibition quality prints under certain circumstances. Today I'm going to look at how the lens performs at various focal lengths, including a comparison to how the Nex7 performs with its kit lens. The results are surprising. I will also post a series of crops from a test frame shot at all ISOs, both as in-camera JPEG and as processed from RAW and given my first shot at optimal treatment. Again, the news is surprisingly good. Finally a look at how the lens does near and far at f1.8...
Focal Length Series
clicking on any image will download a half-resolution JPEG.
All files processed first in Image Data Converter from RAW, then imported into LR for sharpening at 90/0.7/70/20. This is quite a high sharpening level and is intended to make the sharpest possible print at 200dpi from a base ISO 125 file. View the half-resolution download on screen and, given that it's a 50% sized file, it will look like a 200dpi print on most monitors. So you'll see about the best possible representation of how the lens can do. Every frame was shot at f5.6
10.4mm (equivalent to 28mm)
11.18mm (equivalent to 30mm)
15.82mm (equivalent to 43mm)
21.29mm (equivalent to 57mm)
27.54mm (equivalent to 74mm)
36.95mm (equivalent to 99mm)
Brief commentary: were this a kit lens on an entry level DSLR, I would be very surprised to see it perform this well. It is capable of making great prints at 200dpi from edge to edge at every focal length in its range though there may be a tiny touch of weakness at the right hand edge of the 74mm equivalent. I have not used any kit lens on any system this good. It thrashes the Nex-7 18-55 kit at the long end, generally matches its best performance, and beats it everywhere else. As we shall see later. In fact at many focal lengths I would prefer an RX100 file to a Nex-7+kit lens. Which means I now carry the RX100 rather than the Nex, because it's better, not because it's lighter, though this assumes good shooting conditions and lower ISO. Talking of which...
ISO Performance Series
I shot the same scene, from which central crops will be shown, at f5.6 on a tripod with 10 second delay, at every ISO, in JPEG (camera standard) and in RAW. The RAWs were given a totally neutral processing in the Image Data Converter then exported as 16bit TIFF to Lightroom for sharpening and NR. The exact amount of these varies at different ISO as I try to find the best balance of noise control and detail retention.
I'm not going to post all 18 crops here: the issue of who will see what on what size and resolution screen is too complex. But I will post the ISO 6400 examples and a link thereafter to all the shots. But please note, the sharpening/NR I have applied to each RAW file is intended to be seen at 50% on screen. At 100% the higher ISO ones look horrible. However, having pored over all the images and tried different sharpening and NR combinations, I would say that I personally will try hard to keep to no more than ISO800 in RAW but that processing from RAW can give between one and two stops subjective improvement on JPEG. I will also add that even ISO 1600 is pretty damned good from RAW and that I am surprised by the quality of 3200 and 6400 but won't be using them if there's any other choice available.
TIP: when looking at the downloaded files, try examining the legibility of the small text on the pear's label.
ISO 6400, RAW first then JPEG.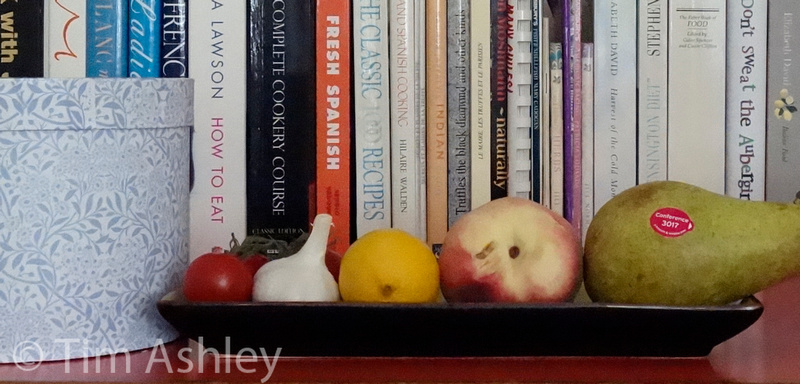 Entire series ISO here.
Compared to Nex-7 with 18-55 Kit Lens
I shouldn't have been surprised (the kit lens is widely acknowledged not to be up to the job on the NEX 7) but nonetheless...
At the long end... (and don't forget two things: firstly the mantra is that All Kit Lenses Are Crap At Full Zoom and secondly, the RX100 zooms quite a bit further than the NEX kit lens).... at the long end, the Nex Kit lens is dreadful. This is my second copy and it is a whole lot better through its entire range than the de-centred first copy I had. In fact it is perfectly adequate, even quite good at times, at wide and mid range and its performance at full zoom improves noticeably if you pull the zoom even a a little bit close. But the RX100 smashes it into oblivion at full zoom and it zooms further. The Nex lens wastes those larger and more plentiful pixels so badly that the RX is REX here.
At the wide and mid-ends, the contest is more evenly matched. In general the RX lens is better but there are some bits of some frames where you can see the resolution advantage of the NEX trying to get out. However, the Zeiss lens on the RX has more pop, more of a 3D look. It is a better lens in terms of consistent quality, maximum aperture and zoom range. No contest.
The link to all the full-res comparative files is here and if you look at the captions they will tell you where the images were focussed if it is relevant. They were all processed identically, first in IDC from RAW to TIFF and then to Lightroom for sharpening and NR.
The RX100 Zeiss lens wide open
It's a fact that no compact zoom on a 20mp camera that dares to offer a maximum aperture of F1.8 can be much use. An absolute fact.
No it isn't.
This lens doesn't quite rock at f1.8 but it's close. A distant landscape is slightly soft, more so at the edges, and there's no real pop. A highly textured stone wall at a few feet away (a much more likely distance for using this lens) is acceptable to the edges at the same viewing resolution as a 200dpi print. Not acceptable for an F1.8 zoom. Acceptable full stop. The corners are a little soft but hey, there are some laws of physics at work, even if you are Zeiss. Contrast is a little lower than at the smaller apertures but that was always going to happen.
I am very seriously impressed and will have no hesitation in using this lens wide open.
Click on either of these ISO 80 images to see a full res file, then look at 50% as usual.
So that's it. Enough testing. This camera is fit for a wide range of purposes, is an amazingly portable way of giving yourself a fighting chance of exhibition quality prints, and is a lot more useful than it's big brother (when paired with kit lens). In short it is way better than I thought it would be, and though I have a deep dislike of cameras with no viewfinder, in this case I will make a serious exception.
Kudos to Sony. REX wears the crown.
Footnote: Quality control issues are a serious problem facing camera purchasers these days and there are reports of asymmetrical sharpness with some RX100 lenses so I strongly suggest that if you buy one, and live in a country where returns are your legal right, you test it at F5.6 on frame-filling planar subjects at a distance of ten feet, fifty feet and far distance and check, when viewed at 50% on screen, that the left and right sides of the frame are equally sharp.